RECOM Technologies participated at Energy Week Black Sea Event 2023 in Bucharest, Romania held at Sheraton Bucharest Hotel, February 7-9, 2023. As Platinum sponsor, RECOM Technologies participated at the conference organized by Investin network, aiming to empower solar renewable energy deployment in the region. The event brought together authorities and energy companies from Romania, Bulgaria, Ukraine, Moldova, Georgia and Turkey as well as international financial institutions and major multinational investors, EPC and consultancy firms for a dialogue aimed at fostering the deployment of renewable energy in the region and attracting foreign direct investment.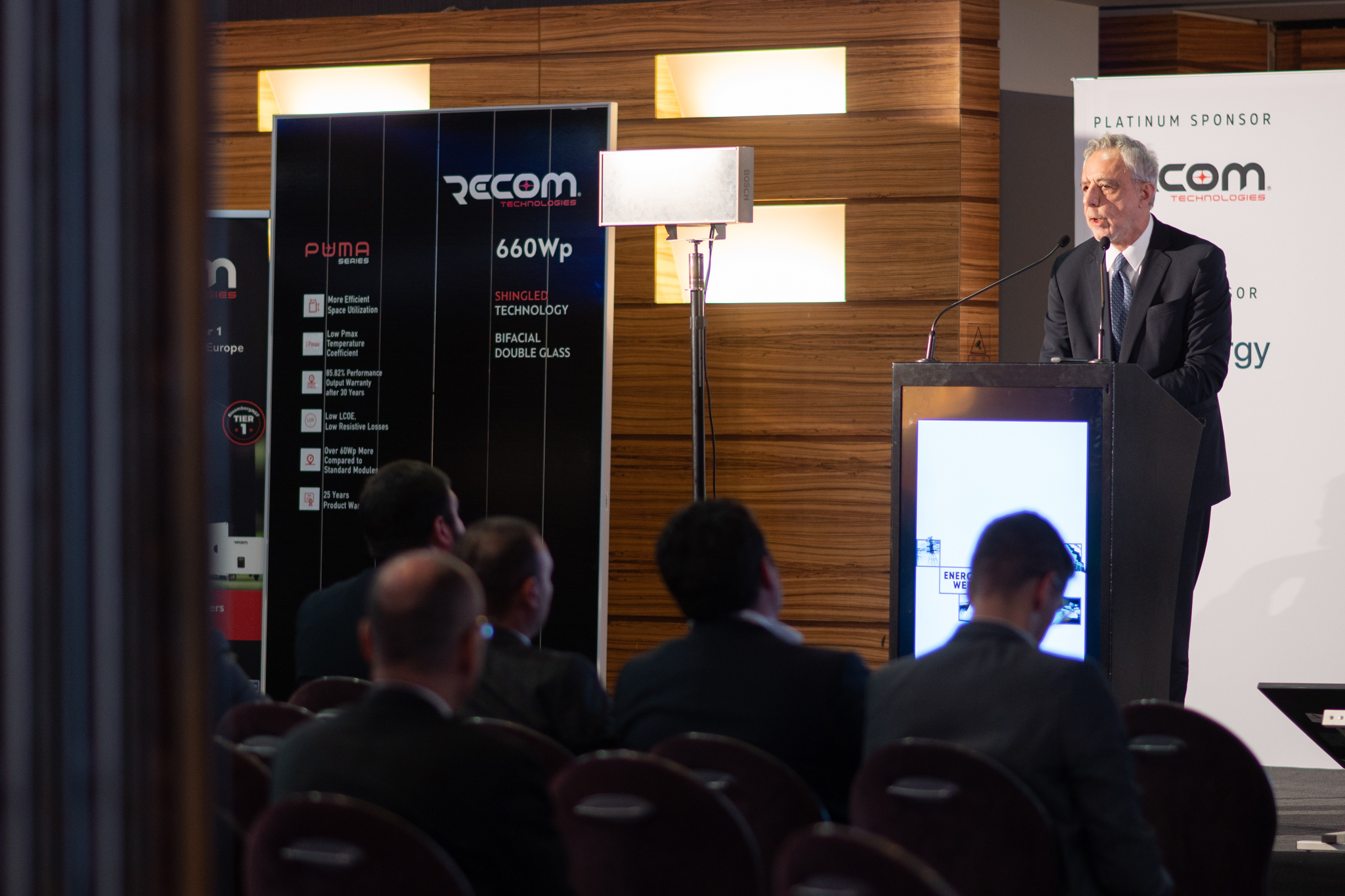 In the first day of the conference, RECOM CEO Advisor, Mr Vartan Oskanian, was one of the panelists along with representatives from EBRD, IFC, EIB and major European energy companies OMB & EDF where he addressed the audience under the topic "The Growing Pains of Energy Transition". In his address Mr Oskanian first spoke about RECOM's global activities both in manufacturing and solar project developments focusing also on company's plans for the Black Sea region.
Following, he talked about the challenges and opportunities facing the renewable industry particularly in the light of the current energy crisis and supply chain disturbances. Finally he touched about the geopolitics of energy transition and the concerns about emergence of new energy traps and dependencies and the ensuing trade war between the major global players.
Mr Oskanian concluded the talk with the thought that there is a need globally for inclusive policies on transition, not exclusive narrative of one industry over the other or one country over the other. Policymakers everywhere must set their sight on three interrelated issues: energy security, economic security and environmental.
The 3rd day "Rooftop Solar Day powered by RECOM Technologies" of Energy Week Black Sea conference was focused to distributed rooftop solar. RECOM Marketing & Communications Director, Ms Georgia Stavropoulou, moderated the "Promoting Distributed Solar in the Black Sea Region" session and RECOM Technical Product Manager – Inverters, Mr Panos Kapros presented "Recom Technologies Residential & Commercial Application Solutions" and how the company can drive clean energy in the Black Sea area. Moreover, pivotal discussions took place on how to unlock and accelerate energy transition in the region.
At Recom Tech, we are excited to be part of this clean energy movement and contribute to a sustainable future through innovative solar solutions.