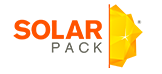 Solarpack has closed the financing of three solar photovoltaic plants in Spain for a total of 59 million euros, divided into a VAT financing tranche and a senior Project Finance tranche. The plants have 100MW of power allocated from the energy auction that took place in Spain in 2017, and will have a total installed module capacity (DC power) of 112MW.
The Grullas-Pedroso, Grullas-Peñaflor and Monclova solar photovoltaic plants, developed by Solarpack Corporación Tecnológica, S.A. in the province of Seville, will be operational by the end of 2019, increasing the company's total operating installed capacity in Spain to 129MW.
The financing was signed on July 12 with Bankia and Bankinter, who had Watson Farley & Williams as the legal advisors for the transaction while Clifford Chance advised Solarpack.
Pablo Burgos, CEO of Solarpack, commented that "this financial closure is another step to complete the construction of our Backlog, with which we captured the interest of our new shareholders at the end of 2018. The entire Solarpack team is very excited to have resumed project construction activities in Spain, which is where we have developed as a company, and in this case with Bankia and Bankinter as partners for the debt financing."