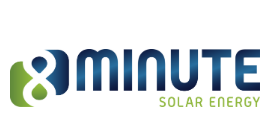 8minutenergy Renewables, LLC announced the closing of debt and tax equity financing for its 26MW Redwood 4 Solar Farm located in Kern County, California. The company also announced that project construction has begun, and is expected to be completed later this year.
"8minutenergy's goal is to deliver abundant, affordable solar energy through impeccable execution of utility-scale project development. Redwood 4 is delivering on that promise to provide renewable energy to tens of thousands of Californians, and we're proud to own this beneficial project," commented Martin Hermann, CEO and Founder, 8minutenergy.
"8minutenergy led the entire greenfield development and financing process for Redwood 4, and will now manage construction and operations as the long-term owner, all of which demonstrate our ability to deliver high-quality solar assets from inception to operation," said Tom Buttgenbach, President and Co-Founder, 8minutenergy. "We are grateful to have reached today's milestone with our trusted partners, Zions Bancorporation and U.S. Bancorp, and look forward to future transactions with both financiers. Their flexibility, competence, and shared dedication to driving clean energy adoption is evident."
"We were pleased that the team at 8minutenergy entrusted us to be the sole lender on this important financing, and we look forward to growing our relationship with them," said Michael MacDonald, Managing Director and Head of Loan Syndications, Power & Project Finance for Zions Bancorporation.
"Sustainability is a key tenet to our investment strategy, and we are thrilled to have found a winning combination with 8minutenergy and their utility-scale development approach. We will continue to seek valuable renewable energy projects such as Redwood 4," said Adam Altenhofen, Vice President, at U.S. Bancorp Community Development Corporation, the division of U.S. Bancorp managing the transaction.