This product is a perfect solution for ground-mounted solar applications. Versatile design is compatible with concrete and ground screws foundation types and is suitable both for horizontal and portrait array layouts, as well as frameless and framed modules.
| | |
| --- | --- |
| lnstall Site | Ground,Open Field |
| Tilt Angle | 10deg-60deg |
| Standard | JISC 8955-2017 Design Guide on Structures for photovoltaic array |
| Max Wind Speed | Up to 60m/s |
| Snow Load | Up to1.4KN/m2 |
| Certificate | ISO9001,CE,etc |
| Material | Aluminum alloy & Stainless steel |
| Color | Natural |
| Anti-corrosive | Anodized |
| Warranty | 10 years warranty |
| Service Life | More than 25 years |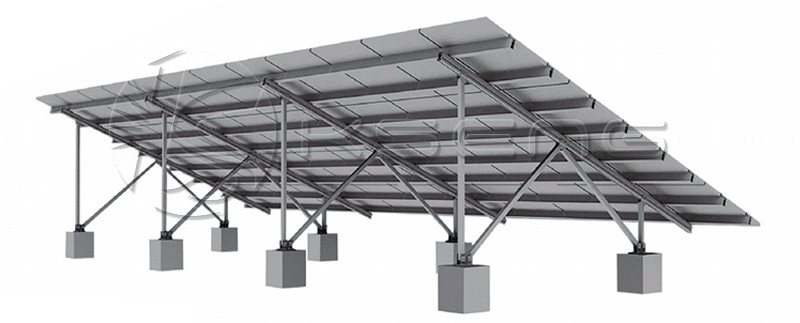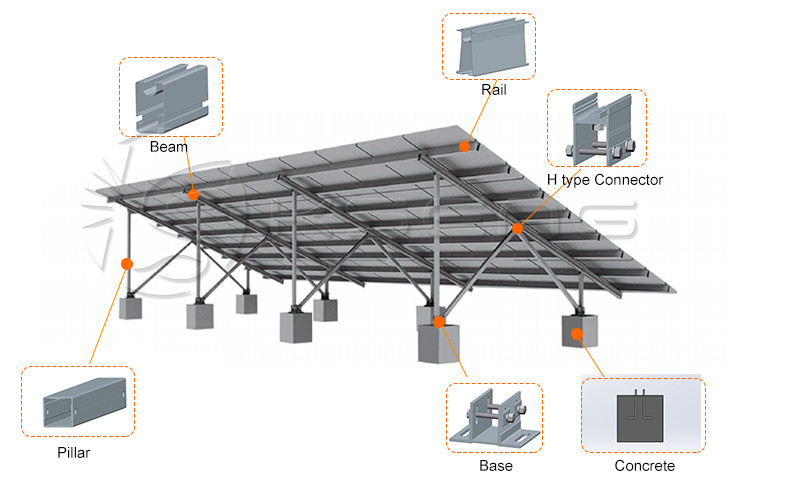 Advantages
1. Material .
For this solar ground mounting structure materials we chose durable aluminum alloy 6005-T5 and SUS 304 stainless steel, anodized and galvanized to withstand corrosion and weather extremes, including wind force of up to 216kilometers per hour and snow load up to 1.4 kilonewtons per square meter, ensuring long-lasting and trouble-free service life, estimated by us as at least 25years.
2. Maximum pre-assembbly:,
All the solar mounting bracket can provide maximum pre-assembly service if customer need, can save solar mounting system installation time and labor cost.
3. Standard:.
Kseng pv ground mounting system is designed strictly in accordance with various national and international standards, including Japanese JIS, Australian AS/NZS, European CE, TÜV, SGS and others.
4. Best Price.
Kseng have own facory , have mature production line for solar mounting bracket ,related solar accessories and ground screw production, we will give you the best price.
Installation Steps
1. Place the concrete foundation, and embedded bolts.
2. Installing the aluminum base on the concrete foundation

3. Install the pre-assembly solar bracket(For Save customer's installation time and labor cost, this step usually completed by our workers before product leaving our factory)

4. Install stiffener(If your photovoltaic project don't need to use stiffener, just ignore this step)

5. Install the solar rail.

6. Install solar panel, use end clamp and middle clamp to fixing the solar panel.

Type of Ground Mounting System

About Kseng
Xiamen Kseng Metal Tech Co., Ltd. not only owns a first-class management and technical team, but is a national high-tech enterprise. Every year, it invests massive capitals to research and exploit new products and purchase new testing equipment, covering salt spray tester, mechanical tester, etc. With continuous innovation in practical structure and system performance, Kseng own more than 60 utility model patents. Product structure design absolutely conforms to AS/NZS 1170 standard, JISC8955-2017 standard, European TUV test and SGS certification, working out a safe, reliable and high quality technical solutions for customers, appreciated by "Kseng Products, Be Trustworthy", so we must keep endeavoring to go for it in the future time.
Moreover, Kseng possess a its own factory with an area of 15000 square meters. We insist on the competition core for product quality, purchasing the raw material from listed corporation and strictly supervising the quality and delivery. The current production line is divided into two respects, the first one is for solar mounting bracket, the second one is about ground screws. We adopt standard manufacturing processes, focusing on quality supervision according to ISO9001 quality management system and strictly conducting operators by 6S management system, implementing the double inspection standard to meet the concept on "Kseng Products, Your Choice."
we have two production line, first one is for solar mounting system, another one is for ground screw.
1.Solar PV Mounting Manufactureing Process Diagram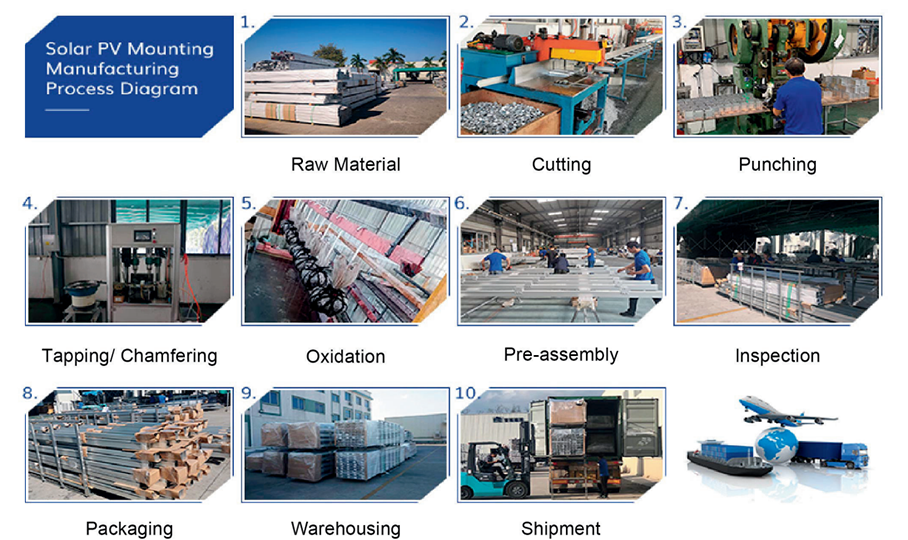 2.Ground Screw Manufacturing Process Diagram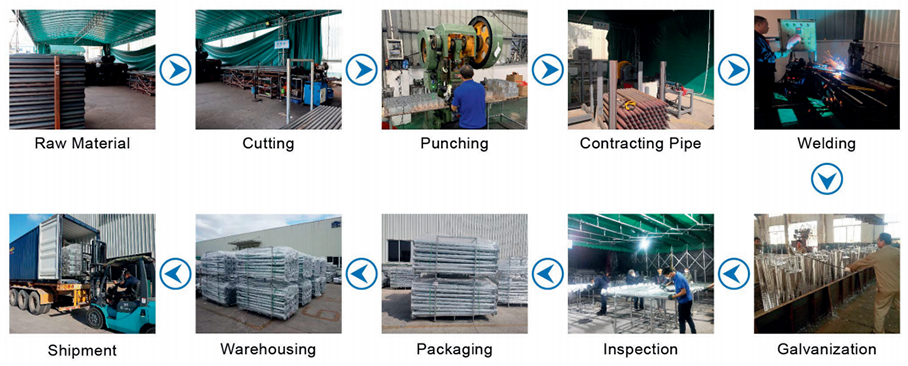 Certification and Patents
Kseng has obtained nearly 100 utility model patents, the product also approved AS/NZS 1170,TUV,UL, CE, CPP, and ISO 9001 quality management system and other international authorized certification.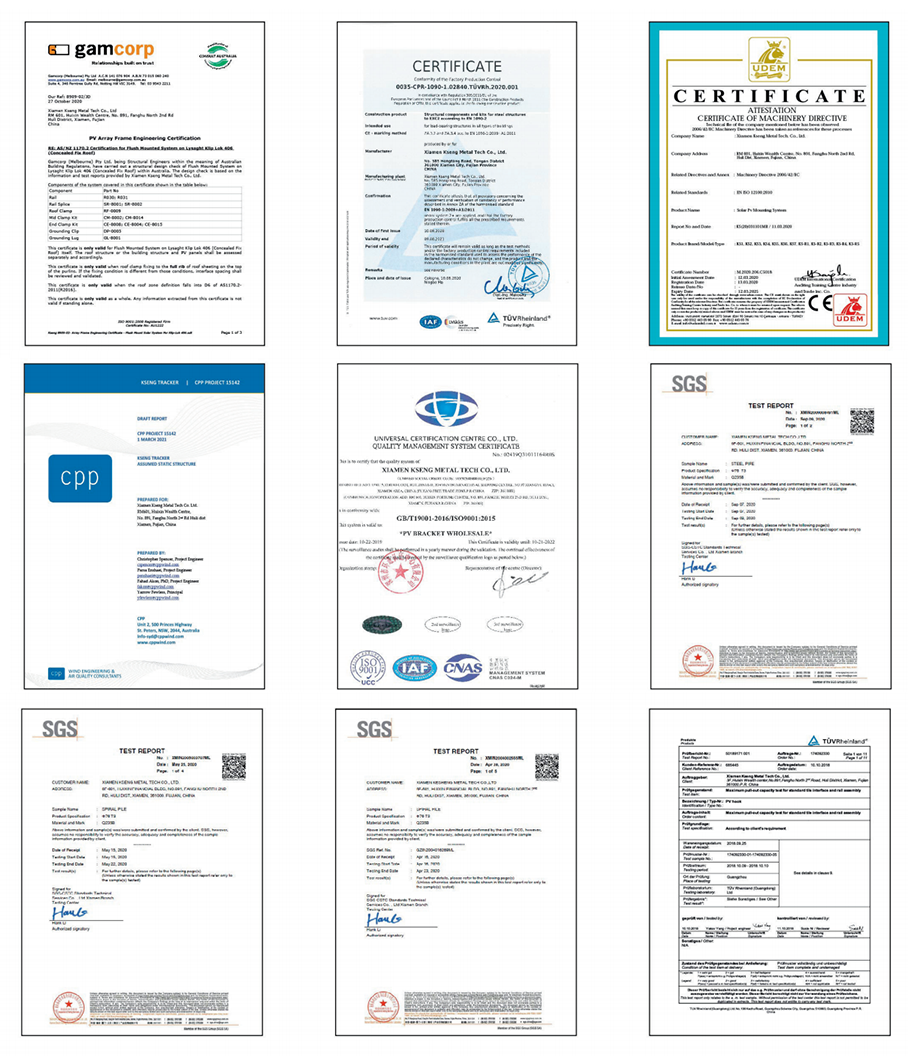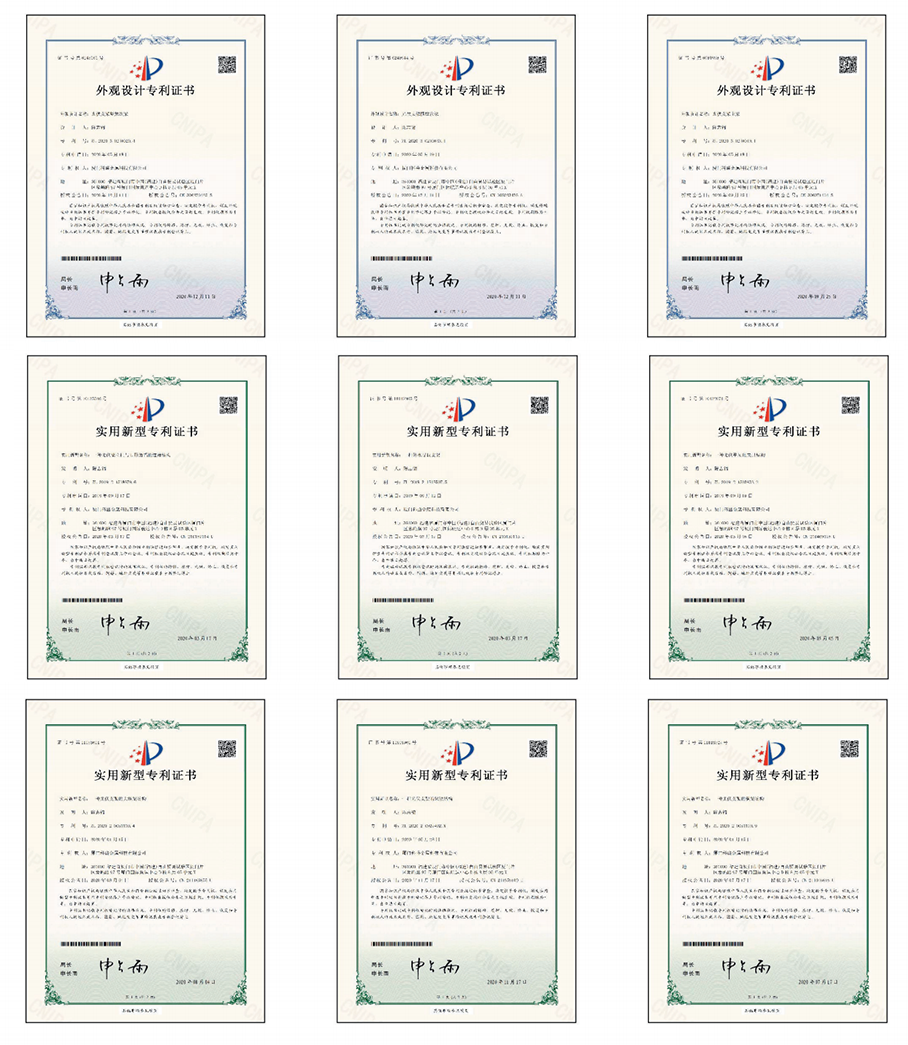 Enterprise Honor
Kseng has won the honor of Xiamen Municipal High- tech Enterprise and one of the top 10 pv mounting supplier.


Project Cases
There are some of Kseng's Project cases,