Product Feature


● Best price-performance ratio
● Highest performance due to new cell technologies and high quality materials
● 25-year linear performance warranty
● 12-year product warranty
● Up to 4.99W more power performance with positive cell-sorting to guarantee higher yield
● 1000V UL
● High quality j-box with connectors for long-time durability
● Potential induced degradation (PID) free
● 100% effective hotspot-prevention processes with micro crack inspection ensure durability
● More power due to better power tolerance: ±3%
● Better performance in diffused sunlight and high temperature
● High ammonia and salt mist resistance certified
● Glass with anti-reflective coating
● Individual testing and surveying, quality assurance by permanent production control incl. EL-test
● UV stabilized, aesthetically pleasing black anodized frame


About GSA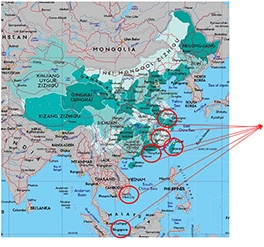 GermanSolar Asia Co., Ltd.
Production locations: China, Vietnam and India
Sales Department: Taiwan, Singapore, China, India, the United States and Africa

"Quality makes a difference" forms the solid basis for GermanSolar's sustainable solutions and is the guiding philosophy of our entire GermanSolar-team. GermanSolar is strongly focused on building long-term relationships with customers and partners. GermanSolar constantly finds the optimal solutions for its customers, working closely with them to determine their preferences and needs, and to provide the most suitable solutions for them.
The workforce of GermanSolar is highly experienced and committed to providing excellent engineering to make GermanSolar the turn-key solution for any idea and application. One such idea has become a GermanSolar team continual goal: to cut carbon emissions in a significant way by providing long lasting products to our customers.


Performance
Benefit from even more PV module power with GermanSolar's positive classes in 5 Wp-steps. This means, when you choose our 270 Wp module, you will get modules that are flashed between 270 Wp and 274.9 Wp. With positive classes, our photovoltaic modules are able to achieve an even higher yield, and our customers receive a combination of maximum efficiency and cost-effectiveness in every GermanSolar panel.
Durability
We focus on quality throughout the value chain. By only selecting top quality components from leading manufacturers, we're able to offer comprehensive warranties in a serious way. With our strict in-house quality control, active hot-spot prevention solar technology processes mandate two thermographic pictures on a cell-level to ensure a high quality solar product. By focusing on quality at every step of the way, we can confidently offer our customers durable, green energy products in stride towards a healthier, more sustainable future for us all.
Photovoltaic (PV) Modules
GermanSolar produces high-quality PV(photovoltaic) modules with crystalline solar cells. Rigorous quality control in the cell process and high-class solar module manufacturing ensure first-rate performance in the long term. The solar modules are available in various power classes. GermanSolar guarantees that each PV module achieves at least nominal power and up to 5 Wp above (according to GermanSolar flash data).


System Development