August 7, 2014 - NRG Energy, Inc. today reported second quarter 2014 Adjusted EBITDA of $671 million with Wholesale contributing $389 million, Retail contributing $173 million and NRG Yield contributing $109 million. Year-to-date adjusted cash flow from operations totaled $564 million. Net loss for the first six months of 2014 was ($153) million, or ($0.48) per diluted common share compared to net loss of ($208) million, or ($0.66) per diluted common share for the first six months of 2013.
"The company's core wholesale and retail business continue to perform strongly, taking advantage of whatever opportunities have presented themselves in their respective commodity markets," said David Crane, NRG's President and Chief Executive Officer. "The formation of NRG Home and NRG Renew will enable NRG to take full advantage of, and realize enhanced value from, the burgeoning growth opportunities that we see arising out of the clean energy sector."
Segment Results
Table 1: Adjusted EBITDA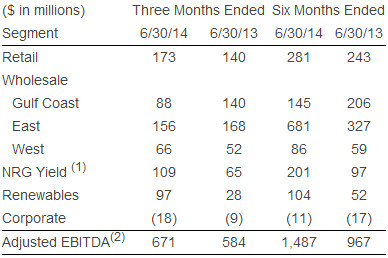 Table 2: Net (Loss)/ Income
Wholesale
Gulf Coast: Second Quarter Adjusted EBITDA was $88 million; $52 million lower than in second quarter 2013. Gross margin declined by $32 million due to lower generation in ERCOT driven by milder weather and lower prices, partially offset by gains in South Central/MISO due to higher energy prices. The balance of the decline was due to timing of outages.
East: Second Quarter Adjusted EBITDA was $156 million; $12 million lower than in second quarter 2013 primarily driven by maintenance costs at certain Midwest Gen assets, partially offset by higher generation in PJM's Maryland coal assets and higher capacity pricing in New York.
West: Second Quarter Adjusted EBITDA was $66 million; $14 million higher than in second quarter 2013. Increases were primarily driven by the addition of the EME gas fleet, partially offset by reductions in capacity revenues from expired toll contracts at Coolwater plant and closing of Contra Costa plant in third quarter 2013.
NRG Yield: Second Quarter Adjusted EBITDA was $109 million; $44 million higher than in second quarter 2013. The performance was the result of new assets achieving commercial operations as well as higher sales volumes in the Thermal business.
Renewables: Second Quarter Adjusted EBITDA was $97 million; $69 million higher than in second quarter 2013. This change is primarily driven by the addition of the EME Wind Portfolio, as well as Ivanpah and CVSR plants which achieved commercial operations in fourth quarter 2013.
Liquidity and Capital Resources
Table 3: Corporate Liquidity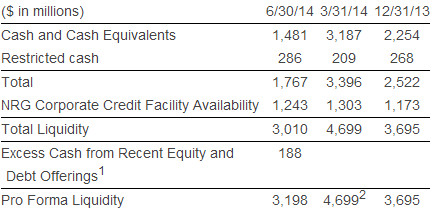 Total liquidity as of June 30, 2014, was $3,010 million, a decrease of $685 million from December 31, 2013, largely as a result of the cash requirements for the EME acquisition. The increase of $70 million in available credit facilities was more than offset by the decrease in cash of $755 million, consisting of the following:
$2,581 million of cash outflows through June 2014, consisting of:
- $1,868 million for acquisitions and growth projects, net, including $1,599 million net cash used to acquire EME on April 1, 2014;
- $297 million of collateral;
- $250 million of maintenance and environmental capital expenditures, net;
- $91 million common and preferred stock dividends; and
- $75 million of merger and integration expenses.
Partially offset by $1,826 million of cash inflows through June 2014, consisting of:
- $1,148 million of net financing activities consisting of: $2,100 million senior note debt proceeds; $337 million NRG Yield convertible notes issuance, net of fees; partially offset by $1,289 million debt payments* (excluding cash grant debt repayments which are included with growth projects);
- $564 million of adjusted cash flow from operations;
- $77 million of net proceeds from sale of assets; and
- $37 million of other net investing and financing activities.
Drop-Down of Assets to NRG Yield
On June 30, 2014, NRG Energy, Inc. completed the previously announced, first drop-down of assets to NRG Yield, Inc. for total cash consideration of $357 million, representing a base purchase price of $349 million and $8 million of working capital adjustments, plus the assumption of $612 million in project debt, and consisting of the following assets (pursuant to the Right of First Offer Agreement with NRG Yield):
- TA High Desert – 20 MW solar facility located in Los Angeles County, CA
- RE Kansas South – 20 MW solar facility located in Kings County, CA
- El Segundo Energy Center – 550 MW fast-start, gas-fired facility located in Los Angeles County, CA
The cash proceeds of $357 million from these drop-downs represent a 1.6X return on cash equity invested in the projects and an increase in capital available for allocation at NRG Energy, Inc.
During the third quarter, NRG Energy, Inc. intends to offer for drop-down a second set of assets to NRG Yield, Inc. representing, on an annual basis, approximately $120 million of Adjusted EBITDA and $35 million of CAFD. The assets include:
- Walnut Creek – 500 MW natural gas facility located in City of Industry, CA
- Tapestry – three wind facilities totaling 204 MW: including Buffalo Bear 19 MW in Oklahoma, Taloga 130 MW in Oklahoma, and Pinnacle 55 MW in Pennsylvania
- Laredo Ridge – 81 MW wind facility located in Petersburg, NE
Optimized Environmental Plan for Midwest Generation
NRG is announcing its environmental compliance plan for Midwest Generation which was acquired as part of the Edison Mission transaction that closed on April 1, 2014. As part of the plan, NRG will be investing approximately $545 million1 which will encompass converting the 1,326 MW Joliet facility to natural gas, installing emissions control technology at both the 1,538 MW Powerton and Waukegan facilities, and retiring Will County Unit 3. The effect of the overall investment will be to reduce overall carbon dioxide emissions by at least 16 million tons per year, and lower both SO2 and NOx emissions by 90% and 65%, respectively.
Growth Initiatives and Strategic Developments
NRG continued to enhance its competitiveness and strategic positioning through a wide range of growth and reorganization initiatives, including:
Acquisition of Alta Wind: NRG Yield is on track to close in the third quarter the acquisition of the largest wind farm in North America, 947 MW Alta Wind facility located in Tehachapi, California, for $870 million, plus the assumption of $1.6 billion of non-recourse project financings and subject to customary working capital adjustments. NRG Yield plans to fund the purchase price through proceeds from the recently completed $630 million common stock equity offering, net of fees, and $492 million bond issuance, net of fees. The transaction is expected to increase both the annual run-rate EBITDA by approximately $220 million and Cash Available for Distribution by approximately $70 million (before debt service associated with acquisition financing) by 2016. The facility is contracted with Southern California Edison under long-term PPAs with an average 21 years of remaining contract life.
Petra Nova Carbon Capture Project: On July 3, 2014, NRG Energy, Inc., through its wholly owned subsidiary Petra Nova Holdings LLC, formed a 50/50 joint venture with JX Nippon, to build and operate the Petra Nova Carbon Capture Project. Using proven technology, the Project will be a commercial-scale carbon capture system that captures 90% of the carbon dioxide (CO2) from an approximately 240 MW flue gas stream from the 610 MW Unit 8 at the WA Parish power plant in Fort Bend County, southwest of Houston. The overall cost of the project, including costs already incurred, is anticipated to be approximately $1 billion to be funded by:
- Equity contributions of approximately $300 million each from both NRG and JX Nippon, of which NRG has already contributed $76 million, net of $76 million reimbursement from JX Nippon;
- Debt of $250 million provided by JBIC and Mizuho Bank, Ltd., backed by Nippon Export and Investment Insurance (NEXI), which closed on July 14, 2014 and full notice to proceed issued on July 15, 2014; and
- Up to $167 million from the DOE CCPI grant of which approximately $7 million has already been received from the grant in the initial design and engineering phase.
The Company has begun construction on the Project and when complete, the Project is expected to be the world's largest post-combustion carbon capture facility on an existing coal plant. The Project is expected to be complete by the end of 2016.
Reorganizing to Capture High Growth Opportunities: Over the balance of the year, NRG will be implementing a reorganization aimed at focusing the Company more directly on the high growth segments of the industry and capitalizing on the strengths NRG brings to those areas of the business. NRG, or the NRG Group of Companies, will consist of three main business lines: "NRG Business"- which will consist of our conventional wholesale generation portfolio and our fast growing B2B segment that includes reliability services, onsite generation and our thermal operations and development; "NRG Home"- which is intended to realize the obvious synergies between our nearly 3 million retail customers, our growing residential solar business and other home energy products and services; and "NRG Renew"- the largest solar and third largest renewable company in the United States. The NRG group of companies will also include two special purpose companies encompassing Petra Nova and our national eVgo electric car charging network, respectively, and, of course, "NRG Yield" which is intended to enable and competitively enhance from a cost of capital perspective the contracted assets of all of the NRG companies in the Group.
Outlook for 2014
The Company is reaffirming guidance for fiscal year 2014 with respect to both Adjusted EBITDA and FCF before Growth investments and assumes, in each case, normalized weather for the remainder of 2014.
Table 4: 2014 Adjusted EBITDA and FCF before Growth investments Guidance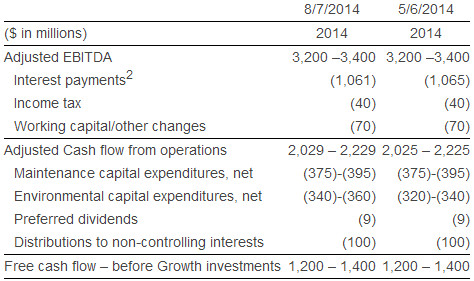 2014 Dividend Program
On July 18, 2014, NRG declared a quarterly dividend on the company's common stock of $0.14 per share, payable August 15, 2014, to stockholders of record as of August 1, 2014.
The Company's common stock dividend is subject to available capital, market conditions and compliance with associated laws and regulations.