Since the electricity supply shortage in Nigeria is being met every day. Mr. Washington is looking for a solar system to power his store. After comparing the quality of different suppliers, he finally chose GSL. GSL's solar system can not only provide electricity for Mr. Washington's shop, but also reduce dependence on traditional energy sources and contribute to environmental protection. The product features of GSL include high efficiency, strong stability, long service life and low maintenance cost. In addition, their team has high professional quality and can provide high-quality after-sales service and technical support, so that Mr. Washington can use it with confidence. Because he learned about the detailed information of GSL products after various consultations and comparisons, he believes that the quality and service of GSL are top-notch in China.
GSL has complete certificates, and the battery has passed international high safety standards, and passed international IEC, European CE, MSDS and United Nations UN38.3 certifications. use. IEC (International Electrotechnical Commission) is one of the most representative international standardization organizations in the world, and CE (European Conformity Assessment Mark) is a required certification for products sold and installed within the European Economic Area (EEA). MSDS is an American National Standard (National Fire Protection Association) chemical safety data sheet for understanding and responding to health and environmental hazards of chemicals. UN38.3 is the United Nations lithium battery transportation agreement, which regulates and standardizes lithium batteries in international transportation. There are also thousands of home users posting and sharing the excellent performance of the GSL energy storage system and the installation pictures that they are satisfied with the GSL solar system.
The following are the pictures and product details after Mr. Washington installed the GSL smart solar energy storage system:
· 2pcs * 8Kw solar bracket
· 4pcs * 10.24Kwh GSL wall mount battery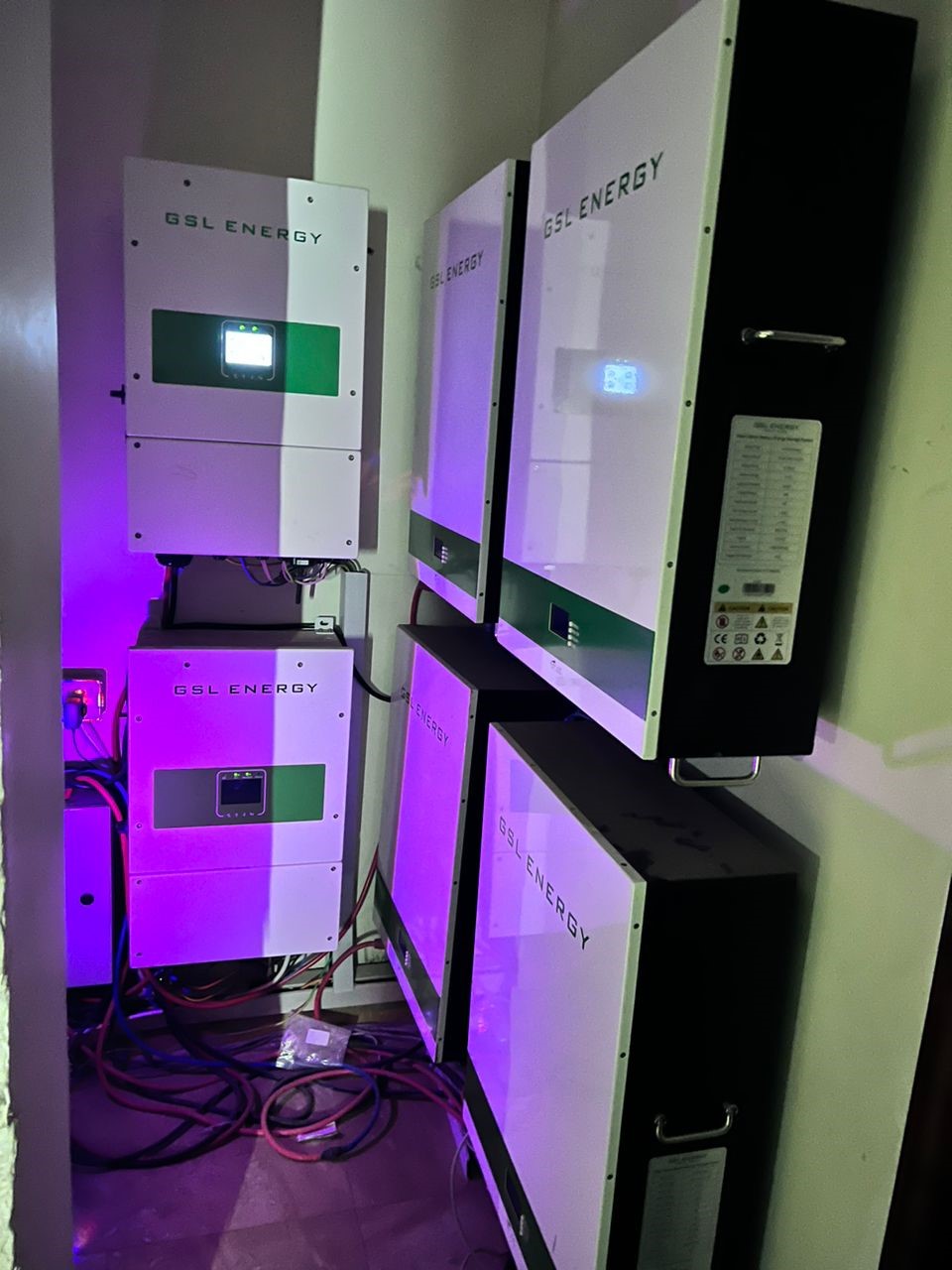 This remarkable system from GSL Solar is designed to provide efficient and reliable backup power. With the ability to store up to 40kWh per day, 1200kWh per month, and an impressive 14,400kWh per year, this system ensures continuous power availability, making it ideal for both domestic and commercial use.
In today's world, uninterrupted power supply has become a necessity, and this system provides a sustainable solution that will keep your home or business up and running, even in the event of a power outage. With the increasing frequency and severity of natural disasters, having a reliable backup power source has never been more critical - this system could prove to be a life-saver. Let GSL Solar light up people's life with this exceptional backup power system.