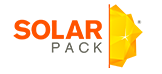 Sungrow forged a framework agreement with Solarpack for the provision of up to 400MVA of 1500Vdc central inverter solutions to solar power plants based in Spain and Chile.
Under the agreement, Sungrow will provide 1500Vdc 6.25MW turnkey solution, including central inverter SG3125HV, medium voltage transformer, switchgear, and other related auxiliary equipment. Featuring a high DC/AC ratio up to 1.5, simplified transportation and installation as well as quick O&M, the solution can significantly minimize LCOE. Inclusive of a high protection level and smart forced air-cooling technology, the 6.25MW turnkey solution can perform efficiently and stably even in harsh environments, making it the ideal match for the plant.
Sungrow Iberica's Managing Director, Javier Izcue Elizalde, said: "We find it very rewarding to work for one of the first solar PV developers and independent power producers in Spain in the form of a long-term strategic partnership. This agreement endorses the confidence the market has in Sungrow and demonstrates that we can solve complex tasks in close cooperation with our partners." This milestone agreement will build a solid basis for developing an ever-growing project pipeline, including early phase studies, engineering, construction as well as commissioning.