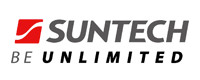 Wuxi Suntech Power Co. Ltd. announced that has signed a new supply agreement on PV modules with Biosar Australia Pty Ltd.
The cooperation between Suntech and Biosar affiliate companies goes back to as early as 2009 and has set in operation already more than 260MW of PV power stations, mostly in Continental Europe and the UK, while this is the first supply agreement between Suntech and Biosar for Australia.
This time, Suntech and Biosar Australia concluded a supply agreement for PV modules in two ground-mount PV power stations that are currently under construction in Australia. More than 275,000 of Suntech's polycrystaline STP330-24/Vfw Photovoltaic modules (1500V) that would be mount on NEXTracker sigle axis products are under production and delivery and expected to conclude by August, 2018. In addition, the parties are actively negotiating on additional orders in Australia.
Dr. Aris Polychronopoulos, General Manager of Biosar stated that "there couldn't be more meaningful way to enter into the second decade of cooperation between Biosar and Suntech than this agreement the Australian market, where both companies are strategically interested to expand and further invest."
Mr. HE Shuangquan, the President of Suntech, stated that "in Australia, solar irradiation in over 80% of the total country area is more than 2000 KW/㎡/H, so this country is of abundant solar power production resources. Therefore, with the same system cost, Australia has advantage in the photovoltaic power generation than other countries and regions. In addition to a variety of supportive policies promulgated by the local government, it's beneficial for Australia to develop and apply solar energy. Suntech has a long standing and excellent cooperation with Biosar that has succeeded to deliver projects in many countries across the world that have embraced solar PV technologies for power production, so far, and we intend to further strengthen and broaden this cooperation. By virtue of our global footprint and Suntech's excellent products, we enjoy wide recognition by a series of global players, such as Biosar, but also utilities, financiers, investors and other stakeholders of the industry. We will never forget our original intention and we are committed in moving forward delivering clean and sustainable electric power by sun, the most abundant source of energy and create a better life."