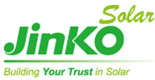 JinkoSolar Holding Co., Ltd. today announced that its wholly owned subsidiary, JinkoSolar (U.S.) Inc., has entered into a Master Purchase Agreement with CivicSolar, Inc.
Under the terms of the agreement, JinkoSolar has been selected by CivicSolar as a Preferred Module Partner and will account for 25% of CivicSolar's module sales. CivicSolar is currently offering JinkoSolar's Eagle (PID-free) and MX (optimized) modules to its customers.
"CivicSolar is thrilled to be working with JinkoSolar, a company committed to offering technology tailored to fit our customers' needs," said Stuart Rentz, President of CivicSolar. "JinkoSolar's product reliability and commitment to on-time delivery are reasons why we have selected them as our Preferred Module Partner."
"JinkoSolar has made the distribution market one of its priorities and is excited to announce this agreement with an established national player like CivicSolar," said Nigel Cockroft, General Manager of JinkoSolar (U.S.) Inc. "Our Eagle and MX modules will support CivicSolar's existing customers and attract new ones."