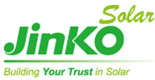 JinkoSolar Holding Co., Ltd. today announced that it has won 3 solar PV projects totaling 188MWac in Mexico. JinkoSolar will develop and build the solar power plants.
Two of the projects are located in Yucatán and one in Jalisco. They are expected to reach commercial operation by mid-2018 where all electricity generated will be sold to Mexico's Federal Electricity Commission (Comisión Federal de Electricidad, or "CFE") under a power purchase agreement for a 15 year period, as well as the related clean energy certificates for a 20 year period. The expected total generation of the three projects is over 500GWh/year and will reduce CO2 emissions by about 200,000 tons/year.
"I am pleased to have been awarded these large scale projects in Mexico, a milestone in JinkoSolar's expansion into overseas projects and its development as a global leader in the solar industry," commented Mr. Xiande Li, Chairman of JinkoSolar. "I believe this demonstrates our brand name recognition, technological strength and financial capabilities in overseas markets. We are eager to jointly work with CFE and CENACE (Centro Nacional de Control de Energía) to develop renewable energy in Mexico. We look forward to leveraging this win to further increase our growth momentum in Mexico and other emerging solar markets as we continue to seek project development opportunities in other markets."